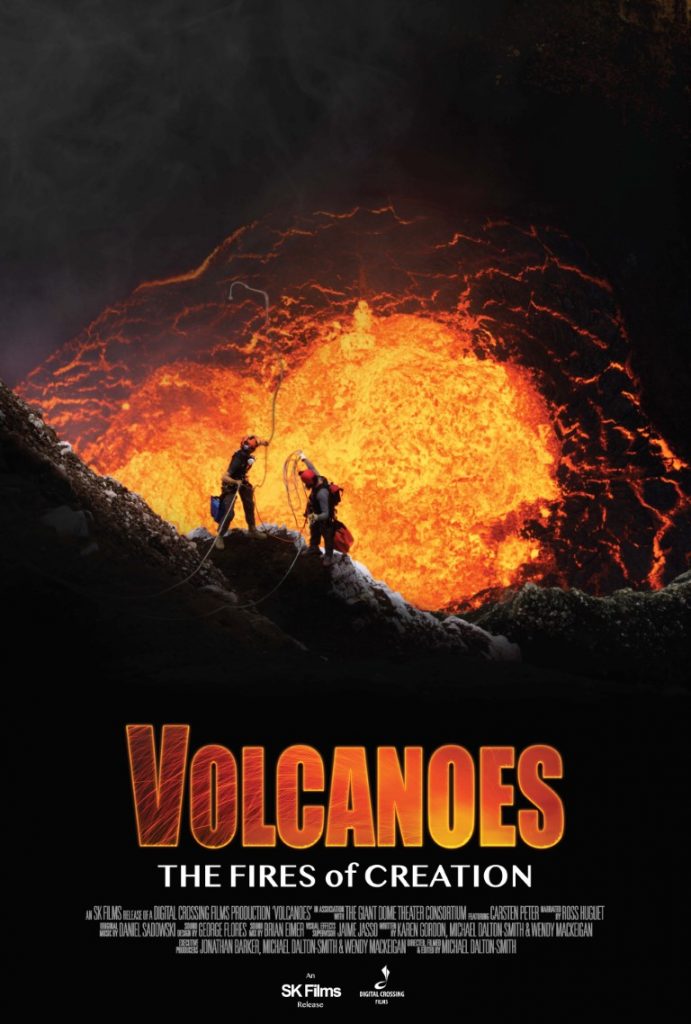 What Theatres Are Saying
"It immediately went to #1 … an AUDIENCE FAVORITE … the epitome of a great IMAX® film."
- Paul Wild, IMAX Victoria
"I said "Yes!" to Volcanoes immediately! The eruption footage is INCREDIBLY IMPRESSIVE and the science is there."
- Charlotte Brohi, Houston Museum of Natural Science
Synopsis:
Volcanoes: The Fires of Creation is a tale of science, culture, and thrilling adventure.
Earth is a planet born of fire. For billions of years, volcanoes have helped forge the world we know. From the continents to the air we breathe and even life itself, all have been shaped by volcanic energy. These processes have created extraordinary ecosystems and wildlife habitats. With over 500 active volcanoes, the Earth is bursting at the seams with these forces of mass construction. The story of volcanoes is the story of the planet's creation and the story of us.
With intrepid explorer Carsten Peter, dodge boulders at the edge of an active volcano in Indonesia, descend to a lava lake in Vanuatu and visit incredible acid ponds, geysers and mineral deposit fields in Ethiopia. Travel across the globe to see the archeological ghost town of Pompeii, hydrothermal vents at the bottom of the ocean and witness the devastating effects of the 2018 Kilauea eruption in Hawaii.
Audiences will be on the edge of their seats as they discover molten worlds and exploding craters in this adrenaline-filled, immersive experience that only IMAX®/Giant Screen films can provide.
All educational materials meet Next Generation Science Standards and Volcanoes: The Fires of Creation fits into curriculums worldwide. Download the Educator's Guide and bring the explosive power of volcanoes into your classroom!
Status:
In Distribution
Release Date:
October 2018
Runtime:
42 minutes, 22 minutes
Formats:
2D and 3D,
IMAX Digital Dome, IMAX Laser,
DCI-compliant Digital,
DCI-compliant Laser,
Dome-customized 15/70,
Digital Dome
Available languages:
Mandarin, Arabic,
French (feature and 22min),
Castellano, Japanese,
Valencian
Directed by:
Michael Dalton-Smith
Website:
volcanoesfilm.com